With inflation soaring in the U.S., people are increasingly turning to buy now pay later (BNPL) installment plans to pay for necessities like groceries, sparking concern among financial experts that such plans could saddle Americans with spiraling debt.
Companies offering BNPL such as PayPal, Pay-in-4, Affirm, Afterpay and Klarna have seen significant growth in the past few years in the U.S. market and are expected to account for 12 percent of e-commerce sales by 2025—up from 3 percent in 2021.
Essentially touted as interest-free loans, the plans are attractive to those with no credit history and people who have never used credit cards. Generation Z and millennials with subprime credit histories are common users, according to TransUnion.
Previously popular among those wanting to spread out the cost of big-ticket purchases, BNPL is being increasingly used for everyday purchases such as filling up the car or putting food on the table.
Linda Cruz, a bail bonds agent from near San Antonio, Texas, told Bloomberg that she used Klarna's interest-free loans for groceries and that she could time her four bi-weekly payments to fall on the weeks she receives her paychecks.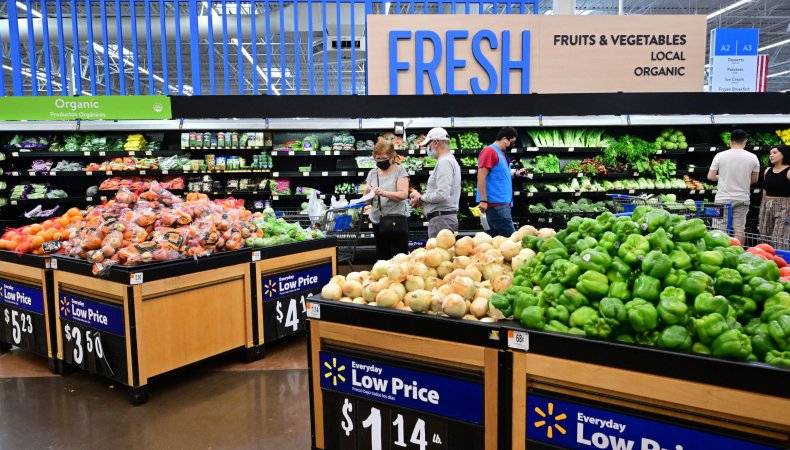 While BNPL can be convenient for Americans with high financial literacy, strong credit scores, and easy access to credit, there are concerns it could also lead people into debt fairly easily without realizing it, especially for those struggling with their personal finances.
"Used wisely, BNPL can be an amazing way to stretch your budget and that's a big deal for folks when the price of seemingly everything is rising by the day," said Matt Schultz, chief credit analyst at LendingTree.
"There's risk, too, though, in large part because these loans can be so easy to get," Schultz told Newsweek. "That easy accessibility is a great thing until it leads to people overspending and making a challenging financial situation worse."
"Relying too heavily on BNPL can have real consequences," he said, "easy availability means that you could have multiple loans simultaneously. That can be challenging, especially for those with limited experience with managing credit."
A purchase is typically split into four or more installment payments over a few weeks or months. Customers can open a new account for each transaction or keep one account for their purchases as long as they pay on time.
In a 2021 Credit Karma survey, roughly one-third (34 percent) of BNPL consumers had fallen behind on at least one BNPL payment, and of those falling behind, nearly three-quarters (72 percent) of respondents said their credit scores declined as a result.
"Some folks will take on more of these loans because they're secure in their financial situation and willing to take on a little bit of risk," said Schultz. "Others will take on more of these loans because they have to to make ends meet. There's no question that both of those things are happening in America right now and will continue to."
Financial planner Bill Dendy, said that for one-time emergency purchases, like fixing the transmission of your car or dealing with sudden unemployment, then the use of BNPL "can be managed through."
"But if you are turning to credit for everyday expenses that are repetitive and come back every single week or every single month, you are then allowed to create this giant snowball of debt," he told Newsweek.
He said it was concerning that companies talk about the "zero cost" of BNPL "but when the amount gets too large, and then you end up with the variable interest rate charges."
"That's stealing from yourself and it creates even more of a burden because if you can't afford the necessities, you certainly can't afford the interest on top of the necessities," Dendy said
There is also concern about a lack of transparency and little regulatory oversight of the plans. Other household debt, such as credit card spending, is tracked by the Federal Reserve, but BNPL data is not included because the financing is typically provided by non-bank sources.
This means there's no publicly available database of BNPL-related consumer debt levels, the number of transactions, delinquency rates, and fees and interest charges. "Technically, it's not a loan and my view is that it should be," said Marshall Lux, a Harvard Kennedy School research fellow whose study on BNPL was published in April.
"I personally think it's a dangerous situation. And I don't believe that the regulators are moving fast enough to deal with it," Lux told Newsweek, expressing concern at how ubiquitous BNPL offers are online and in the mall at a time when people's financial situations are worsening.
He said when people are using BNPL "to buy sneakers, sweaters, and even cleaning supplies —that's a telltale sign that these people are in trouble.
"I think there's a whole generation of young people who don't know how to use credit. Many of them are living paycheck to paycheck, and they're going to be in trouble," he said.
However, BNPL providers have said their offerings are a safer and more sustainable option than traditional lines of credit.
A spokesperson for Klarna told Newsweek in a statement that it assesses consumers' ability to pay "on each and every purchase" and that with credit card interest rates in the U.S. at 16 percent "it's no surprise that Americans are looking for a better value alternative."
"It's not our place to tell people how to shop or what to buy, but we do think it's our role to give people choice and flexibility," the spokesperson said, adding that 40 percent of its transactions globally are debit or people can spread payments across a short term schedule using interest-free products.
This was "more sustainable" compared with "high-cost credit cards that encourage minimum payments keeping people in debt longer with extortionate interest."
Meanwhile, Libor Michalek, president of technology, risk and operations at Affirm told CNN that the product "is entirely built around the premise of the consumers' long-term success and their ability to repay."
"If they're not able to, that is where we share in the negative outcome," Michalek said.